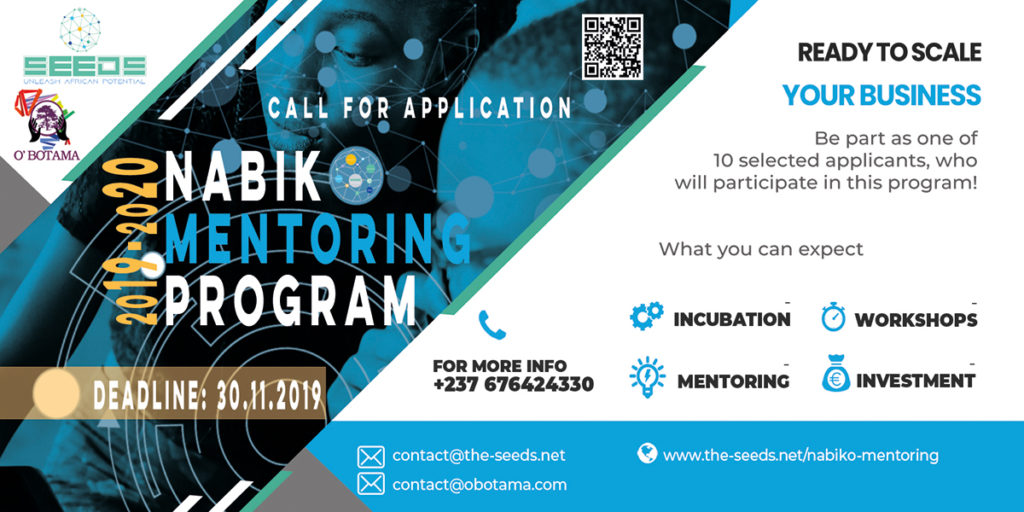 Vidéo de présentation 
Apply now and be part of an 8 month mentoring program
#1 Présentez votre idée avec un pitch vidéo
#2 Begin your 8-month mentoring phase
#3 Join O'BOTAMA incubation program
#4 Unleash your potential and scale
We are looking for…
Students, employees, entrepreneurs​ who ...
- Have a business idea in an early adopter phase
- Operate in the fields of biomedicine, renewable energies, connectivity,
autonomy in logistics, finance, and agriculture
- Are based in Cameroon
- Are solving a local development challenge
- Want to improve their business operations by interacting with experts and African
diaspora mentors
- Are ready to commit to the 8-month NABIKO mentoring program.
Apply if your project fits in the following areas.
- Renewable energy​
- Internet of things
- Biomedicine
- Autonomy and logistic
- Finance
- Agriculture.
Top 10 applicants​ are ...
- Opportunity to join an 8-month mentoring program
- Access to industry experts from the African diaspora
- Access to physical workshops in Cameroon free of charge: 5-day boot camp
- Access to O'BOTAMA incubation program free of charge for one year
- Access to virtual business support
- Grant of up to 500 € during the mentoring program and
based on goals achievement
- Visibility to potential investors from a diaspora business angel group with the possibility of
follow-up investment at the end of the program for best-ranked projects.
Quelques images de l'après-midi « Nabiko »