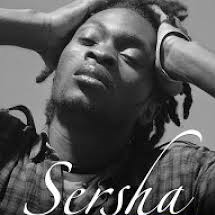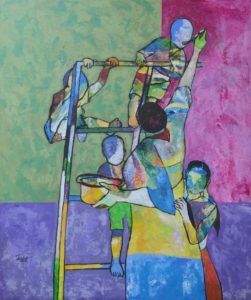 Serge Tapche, que l'on appelle encore Sersha a fait son vernissage à O'Botama le 8 juin dernier. L'exposition « Child attention » est en cours jusqu'à la fin du mois de juillet. Profitez-en!
Sersha répond ici à quelques questions pour O'Botama.
Q1/ Who is Sersha?
Sersha is an artist a painter and singer by profession specialist in fine art and abstract.
Q2/ What is the main subject of your work?
The main subject I worked on this time is the attention of parents to their children.
Q3/ Which technique do you use?
I use 3 techniques in my painting style for example acrylic on canvas, oil on canvas and professional guasch on canvas.
Q4/ »Child attention » is a series of very colorful paintings. Why did you choose bright colors for these paintings?
The reason why I'm colorful in my painting style is to represent the uniqueness of everyone.
Q5/The characters you put on stage have no face. Can you tell us why?
I paint without putting faces no a particular color, it's my way to unite the world.
Q6/What are your artistic inspirations?
My first artistic inspiration is nature in nature I get inspired by love, unity, harmony, peace, affection, justice, etc.
Q7/What do you think of O'Botama as a place of exhibition?
O'Botama according to me is a place to be, they have beautiful walls for exhibition and it's a place to grow.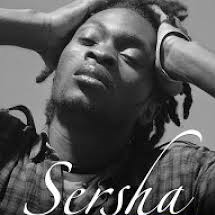 Q8/In addition to painting, do you have any other passions? Which ones?
Sersha also is a singer, plays guitar and a photograph.
Q9/ What painting would you like to see illustrate this interview? Why?
The painting I will like to be used to illustrate this interview is the painting of the mother giving food to her children titled (Tenderness). Why, because according to me, parents are called to give a meaning to their children lives.
Q10/ Future projects?
Yes but my future project depends on my present, my wish actually is to sell paintings or find sponsors in other to be able to buy materials and do more paintings for future projects.
Thank you for this interview.